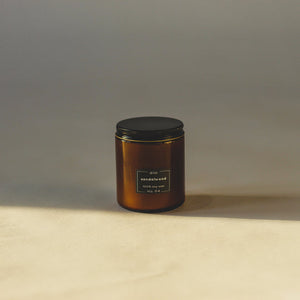 琥珀玻璃系列香薰蠟燭 - 檀香木 
100%採用美國高質大豆蠟

無鉛棉芯使用、不含塑化劑,燃燒時不釋放有害黑煙

於美國費城Dilo工作室手工製作及設計
212g(燃燒時間約40-50小時)
香調
前調:檀香木

 - 佛手柑 - 丁香

中調:木泥 - 雪松
後調:麝香 - 琥珀 - 雲呢拿
Amber Glass Collection Candle - Sandalwood
dilo candles are hand poured and made using 100% USA grown Soy Wax. 
No. 04 Sandalwood burns to reveal an earthy, woody fragrance with spicy top notes and a base of warming amber and musk.
Top Notes: Sandalwood, Bergamot, Clove
Heart: Earth, Cedar
Base: Musk, Amber, Vanilla
All candles are Phthalate-free, using cotton wicks with no lead cores for safer, cleaner burning.